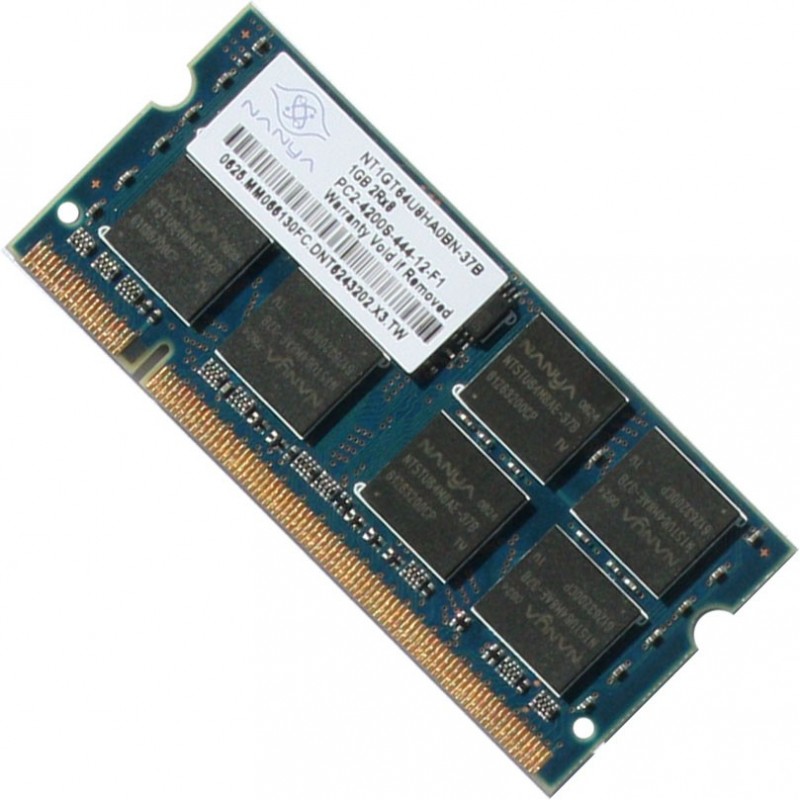  
Nanya 1GB DDR2 PC2-4200 533MHz Notebook Memory NT1GT64U8HA0BN
Nanya 1Gb DDR2 PC2-4200 533MHz sodimm Notebook Memory
NT1GT64U8HA0BN
Security policy (edit with Customer reassurance module)

Delivery policy (edit with Customer reassurance module)

Return policy (edit with Customer reassurance module)
SPECIFICATIONS
| | |
| --- | --- |
| CAPACITY | 1GB |
| STANDARD | PC2-4200 (DDR2-533) |
| MEMORY SPEED | 533MHz |
| CAS LATENCY | CL4 |
| ERROR CHECKING | Non-ECC |
| REGISTERED | Unbuffered |
| VOLTAGE | 1.8V |
| FORM FACTOR | 200-pin DDR2 SO-DIMM |
| CONFIGURATION | Double-sided module, 16 BGA chips. 32Mx16 module configuration |
| FEATURES | 6-layer PCB, 4.2GB/s bandwidth max.  |
| PACKAGING | Anti-Static packaging |
| WARRANTY | Lifetime |
Compatibility: 
Dell Products:
Dell Inspiron: 630m, 640m, 6400, 9300, 9400, B120, B130, E1405, E1505, E1705
Dell Inspiron XPS: Gen 2 (G2), M140, M170,
Dell Latitude: D520, D620, D820,
Dell Precision: M20, M65, M70, M90,
Dell XPS: M1210, M1710, M2010
HP/Compaq Products:
HP Compaq Business Notebook nc4400; nc6320; nc6400; nc8430; nx6310; nx6315; nx6320; nx6325; nx6330; nx7300; nx7400; nx8420; nx9420;
HP Compaq Pavilion Media Center Notebook: dv2101eu; dv2102eu; dv2103ea; dv2104ea; dv2104eu; dv2105ea; dv2106eu; dv2108ea; dv2109nr; dv2110eu; dv2115ea; dv2116ea; dv2116wm; dv2120la; dv2123eu; dv2125ea; dv2125la; dv2125nr; dv2129ea; dv2130br; dv2130ea; dv2130us; dv2131ea; dv2132ea; dv2133ea; dv2134ea; dv2140br; dv2140eu; dv2141eu; dv2147ea; dv2149ea; dv2151ea; dv2152ea; dv2160br; dv2164eu; dv2166eu; dv2171ca; dv2171cl; dv2171ea; dv2172ea; dv2173ea; dv2174cl; dv2174ea; dv2175ea; dv2180eu; dv2188ea; dv2195eu; dv2200ea; dv2207ea; dv2209ea; dv2215ea; dv2216ea; dv2217ea; dv2222ea; dv2224ea; dv2227ea; dv2245ea; dv2246ea; dv2267ea; dv2268ea; dv2275ea; dv2276ea; dv2278ea; dv2281ea; dv2282ea; dv2297ea; dv2298ea; dv5135nr; dv6113ea; dv6113eu; dv6113us; dv6115ea; dv6116ea; dv6119us; dv6123ea; dv6123eu; dv6125se; dv6132eu; dv6137ea; dv6147ea; dv6158ea; dv6162ea; dv6201ea; dv6203ea; dv6208ea; dv6211ea; dv6212ea; dv6213ea; dv6214ea; dv6215ea; dv6216ea; dv6217ea; dv6218ea; dv6219ea; dv6230ea; dv6236ea; dv6237ea; dv6238ea; dv6239ea; dv6239eu; dv6240eu; dv6242ea; dv6243ea; dv6244ea; dv6244eu; dv6245ea; dv6245eu; dv6247ea; dv6248eu; dv6249eu; dv6250eu; dv6254ea; dv6254eu; dv6255eu; dv6256eu; dv6259eu; dv6263eu; dv6265eu; dv6267eu; dv6269eu; dv6275ea; dv6276ea; dv6276eu; dv6277ea; dv6278eu; dv6280ea; dv6281ea; dv6283eu; dv6284eu; dv6285eu; dv6286ea; dv6287eu; dv6288ea; dv6290ea; dv6291ea; dv6297ea; dv6298ea; dv6299ea; dv8280us; dv8408us; dv9000ea; dv9001ea; dv9002ea; dv9003ea; dv9005ca; dv9006ea; dv9008ea; dv9008nr; dv9009cl; dv9009nr; dv9009us; dv9010ca; dv9013ca; dv9013cl; dv9014ea; dv9016ea; dv9017ea; dv9018ea; dv9022ea; dv9033cl; dv9035nr; dv9036ea; dv9037ea; dv9038ea; dv9039ea; dv9040ea; dv9041ea; dv9042ea; dv9045ea; dv9049ea; dv9051ea; dv9052ea; dv9053ea; dv9055ea; dv9057ea; dv9058ea; dv9059ea; dv9060ea; dv9061ea; dv9062ea; dv9064ea; dv9071ea; dv9072ea; dv9074cl; dv9075ea; dv9075eu; dv9075la; dv9077ea; dv9078ea; dv9079ea; dv9080ea; dv9081ea; dv9082eu; dv9083ea; dv9084ea; dv9085eu; dv9086ea; dv9088ea; dv9089ea; dv9090ea; dv9091ea; dv9093ea; dv9093eu; dv9094ea; dv9095eu; dv9096ea; dv9099ea; tx1030ea; tx1080ea;
HP Compaq Pavilion Notebook dv1618TN; dv1708nr; dv1710ca; dv1710us; dv1712us; dv1720LA; dv1729TU; dv1738od; dv1740BR; dv1750BR; dv1760BR; dv2000t Series (CTO); dv2000z Series (CTO); dv2001TU; dv2002TU; dv2003ea; dv2004ea; dv2005ea; dv2006ea; dv2006tu; dv2007ea; dv2008ea; dv2009ea; dv2010ea; dv2011ea; dv2012ea; dv2013ea; dv2013TU; dv2014ea; dv2015ea; dv2015nr; dv2016ea; dv2017ea; dv2018ea; dv2018tx; dv2019ea; dv2020ca; dv2020ea; dv2020us; dv2023TU; dv2025LA; dv2025nr; dv2025TU; dv2028ea; dv2029ea; dv2030ea; dv2031ea; dv2032ea; dv2033ea; dv2034ea; dv2035LA; dv2035us; dv2036ea; dv2037us; dv2040ca; dv2040us; dv2045ea; dv2047cl; dv2050us; dv2053ea; dv2054ea; dv2055ea; dv2056ea; dv2057ea; dv2058ea; dv2064ea; dv2065ea; dv2081ea; dv2082ea; dv2083ea; dv2084ea; dv2085ea; dv2095ea; dv2097ea; dv2098ea; dv2099ea; dv2102TU; dv2108tx; dv2109TX; dv2113TU; dv2118la; dv2120br; dv2120ca; dv2130br; dv2135la; dv2140br; dv2143tx; dv2160br; dv2184ea; dv2185ea; dv2196ea; dv2197ea; dv2201ca; dv2202ca; dv2205ea; dv2210us; dv2213ca; dv2213cl; dv2214us; dv2215tx; dv2220la; dv2220us; dv2221us; dv2225la; dv2225nr; dv2226ea; dv2235la; dv2265ea; dv5000t (CTO); dv5118TX; dv5120tx; dv5133ea; dv5150us; dv5160ea; dv5163cl Media Center; dv5167cl; dv5170us; dv5178us Media Center; dv5190us Media Center; dv5194ea; dv5196ea; dv5200 (CTO); dv5200TX; dv5201TX; dv5203TU; dv5205ea; dv5218nr; dv522
Part #
OEM Manufacturer Equivalent Part Number: HP EM994AA, HP 409060-001, HP 414046-001, HP 431403-001, HP 432970-001, HP 434742-001, HP EM994UT
ALTERNATE ITEM #: KTH-ZD8000B/1G
UPC: 0740617090871
1Gb DDR2 SO-DIMM laptop memory module with 200 pins. This module is rated to run at 533MHz (PC2-4200) at CL4. From Kingston and backed by a lifetime warranty.
This DDR2 533 SO-DIMM is designed to meet the 533MHz data-rate specification of the JEDEC (Joint Electron Device Engineering Council) standard, but it seems to own the huge potentiality to draw out higher performance in Kingston laboratories.

By 1.8V low-voltage application, DDR2 modules can reduce about 50% power consumption, which is compared with 2.5V (DDR) power supply on the same operation speed. So it is an environment-friendly product. In order to achieve so amazing high operation speed, Kingston applies the lower parasitic-loading FBGA (Fine-pitch BGA) package to run in full-speed without extraneous loading.

Compared with DDR, DDR2 owns four key technologies pave the way to high-speed operation and low power consumption.