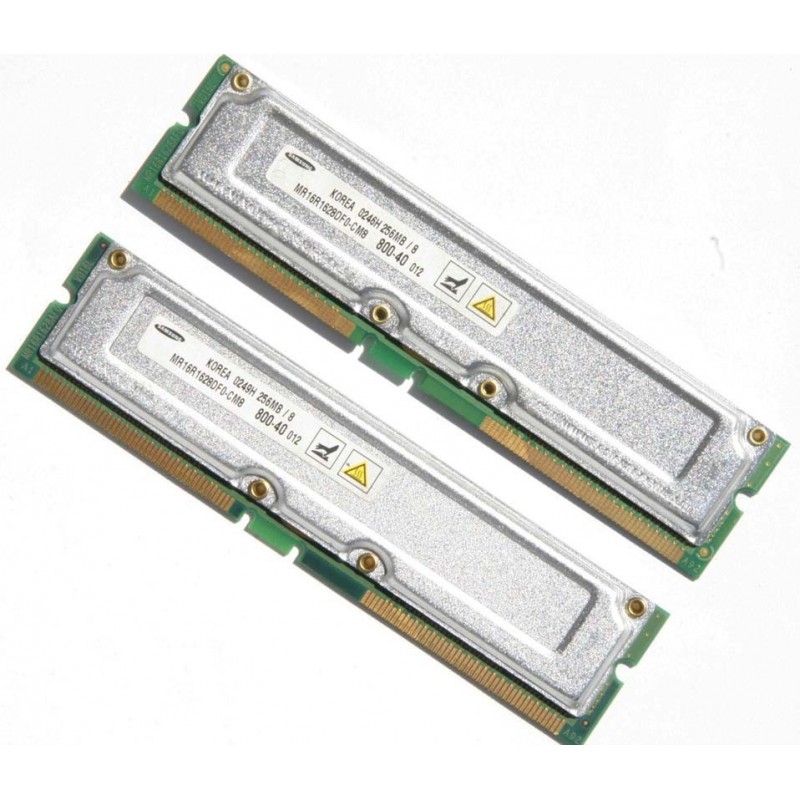  
Samsung 512MB (2x 256MB) PC800 non-ECC Rambus memory 40ns
Samsung 512MB (2x 256MB) PC800 non-ECC Rambus memory module.
MR16R1628DFO-CM8
Security policy (edit with Customer reassurance module)

Delivery policy (edit with Customer reassurance module)

Return policy (edit with Customer reassurance module)
SPECIFICATIONS
| | |
| --- | --- |
| CAPACITY | 2x256MB (512MB) |
| STANDARD | PC800 |
| SPEED | 800MHz (400MHz FSB) |
| ERROR CORRECTION | Non-ECC |
| ACCESS SPEED | 40ns (also compatible with 45ns) |
| PINS | 184 pins |
| TECHNOLOGY | Rambus RDRAM RIMM module |
| FEATURES | Aluminium heatsinks, 16-bit, backwards compatible with earlier version p/n MR16R1628DF0-CM8 |
| WARRANTY | Lifetime |
Compatible Systems (Guaranteed for ALL Rambus Systems):

COMPAQ

Deskpro EN Rambus ; EXS Desktop, EXS P IV; Presario 7000T, 7120US, 7126CL; Workstation 300, AP240, AP250, AP550, SP750; Evo Workstation W6000, W8000.

DELL

Dimension 8100, 8200(400MHz FSB); Dimension XPS B533R, B600R, B667R, B733R, B800R , B866, B866R, B933, B933R, B1000, B1000R, B1130, B1.13R; OptiPlex GX200, GX300, GX400; Precision 667, 733, 800, 866, 933; Precision Online Trading Workstation; Precision Workstation 220, 330, 340(400MHz FSB), 350(400MHz FSB), 420, 530, 620.

GATEWAY

Performance 1300, 1400, 1500, 1600, 1700, 1800, 2000; Professional S 1300, 1400, 1500, 1600 ,1700.

HP

Pavilion 1G; 7960, 7970, 9795, 9720; HP Workstation X1100, X2000, X2100, X4000; Kayak X2000, X4000, XM600, XU700, XU800

IBM

NetVista A60i 6832, A60 6833; Intellistation M Pro 6229, 6849, 6850, 6866, 6868; Intellistation Z Pro 6866.

Sony

Vaio PCV-RX66, RX76, RX370, RX380, RX370DS, PCV-RX380DS, RX462, RX462DS, RX463DS Vaio PCV-RX465DS, RX470DS, RX480DS, RX490TV, PCV-RX500E, RX600E, RX600N, RX790C, RX790G
Intel Motherboard:
Intel D850EMD2 Motherboard (ECC), D850EMD2 (MEDFORD 2) Motherboard (ECC), D850GB Motherboard (ECC), D850GBC Motherboard (ECC), D850GB2 Motherboard (ECC), D850GBA Motherboard (ECC), D850GBCAL Motherboard (ECC), D850GBL Motherboard (ECC), D850MD Motherboard (ECC), D850MDL Motherboard (ECC), D850MV Motherboard (ECC), D850MVSE Motherboard (ECC), D850MVL Motherboard (ECC), OR840 Motherboard (ECC).



**Tips for installing RDRAM memory:**

1. In dual-channel system always install in pairs ( matched or same) except some old machines that can take single stick with CRIMM.

2. Never touch the gold connector pad with your bare hand and it is a good idea to release the static potential of your hands by touching grounded metal surface before installing.

3. You may mix up PC800 with PC600 or PC700; however, that will make the system run at the lowest speed

4. You may install same type of pairs with different capacity or even different brands, such as one pair of 128MB Samsung PC800 with one pair of Elpida 256MB PC800 in the same system.

5. You may mix a pair of ECC (error correcting code) with a pair of non-ECC modules. This will cause the system to disable the ECC function of the ECC modules, makes them function like NonECC modules.
PC800 256Mb Rambus RIMM module from Samsung, 800MHz, 184-pin, non-ECC module, 40ns.
This is a single memory module - please note that most systems require this memory type installed in matching pairs. For those systems (mainly Pentium 4 based systems) we recommend purchasing two modules to ensure compatibility.
The RDRAM technology allows for very high performance and bandwidth without jeopardising system stability.